Published February 18, 2019
Inspired by the Summit, I Became the First Female Bishop in Cameroon
As the youngest in a family of 15 children, I had early practice in reaching farther, especially at dinner! No question, being in a big family poses a special challenge. Especially when that family turns its back on you.
I received an ultimatum: family or faith.
Twenty years ago, as a student in Nigeria, I came to know the Lord. My family in Cameroon didn't like it. Not that they weren't Christian—they are Catholic—but in that time and place, evangelicals were regarded as frustrated failures with nothing else to do.
And so, I received an ultimatum: family or faith.
I tried to make my family realize that no one can encounter God and turn away. That in forcing this choice, they were telling me to go with Him—and let go of them. So that's what happened.
Building a community of leaders through the Summit
I returned to Cameroon with nothing but a God-given conviction that the Lord wanted me to start a ministry there. It drew me closer to Him, and to Scripture.
Building a church is no easy task, as many of you know. But from the start, I knew one thing I didn't want: a group of followers. Instead, I wanted reach further by building a community of leaders.
The opportunity to do that came when I met a representative of The Global Leadership Summit from Nigeria who wanted to expand the GLS into neighboring Cameroon. As a result, my church became a Summit host site.  I knew this was going to sharpen me. Not just me, but my church. This would give us a cutting edge in our community.
It's the Summit's top-level teaching that is so impactful, covering every area you can imagine, all in one package. The topics are so deep and so relevant, everything from developing determination to the true meaning of being a team player. I heard inspiring themes: the church is the hope of the nation when it's working right. Everybody wins when the leader gets better. I received lots of training material I could take home to help grow new leaders.
I'll never forget the first time I attended a Summit in Chicago. There were so many automobiles in the parking lot, hundreds and hundreds of them. My mind was blown, and I asked someone, in all seriousness: Is this a car dealership?
It wasn't. But the Summit is a vehicle for those who want to reach further, by inspiring vision and igniting transformation all over the world. I know it stirred me to strive for excellence—and do something great for God.
The Summit renews souls and strengthens vision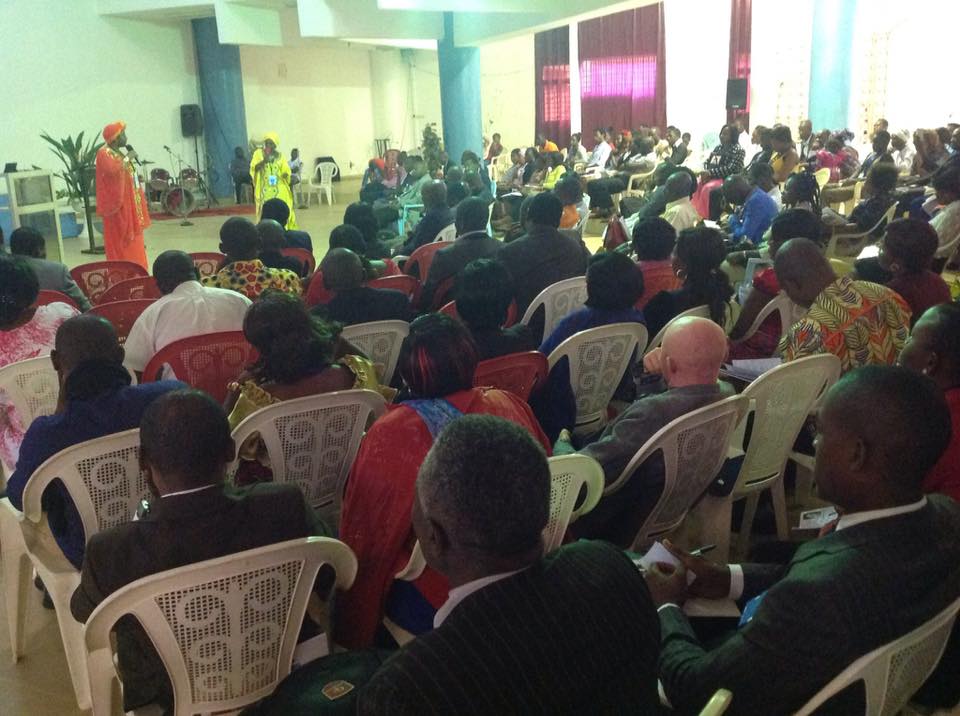 Every year that I come to the GLS, my soul is renewed, my vision is strengthened, and my passion just overflows. The confidence I've gained has helped me overcome those who scoffed at the idea of a woman pastor. It helped me overcome threats of violence after hoodlums threatened to burn down my church and kill me, because who was I to invade the domain of men?
The Summit has helped me remain steadfast after taking what has been the most decisive step in my walk with God
And the Summit has helped me remain steadfast after taking what has been the most decisive step in my walk with God—becoming the first woman bishop in Cameroon.
The decision to assume that role wasn't easy. Since coming home all I had known was fighting and hatred. But after a while some people—including members my own family—finally accepted me as a female Pentecostal pastor. Becoming a Pentecostal bishop would just throw me into a new set of battles—and I was tired, very tired. So, I declined.
Then church elders sent me a letter, saying they truly and urgently needed me. That night, I cried out to God. I said, Have mercy. I want to serve you, but let me just do what I am already doing.
But God wouldn't leave it at that. He reminded me that all the struggle wasn't about me at all, but about what I could do for others in His name.
It was about giving the hungry something to eat.
About helping the thirsty have clean water to drink.
About enabling kids to get an education.
And showing others how they can do the same.
For as the Lord says: Whatever you do to the least of my brothers and sisters, that you do unto me.
Accepting the call of God
It took me back to my very first Global Leadership Summit—and the speaker who said: Identify a need in your community, and find out how you can meet that need.
That realization changed everything for me, and broke the ice with those who, at first, could not understand what I—a woman preacher—was doing in their midst. Now people who once wanted to kill me say I am the mother of the community.
Now people who once wanted to kill me say I am the mother of the community.
That is personally gratifying, but the best moments come when people ask if they should accept the call of God. Many over the years—men and women alike—have joined the ministry, new leaders inspiring vision and igniting transformation as they go.
They ask what keeps me going—and what they will need to succeed. I tell them they must have conviction. For without it, they will never be able to carry out the will of God.
What are we going to do?
The church God enabled me to found is in Yaoundé, the capital of Cameroon, a city of two-and-a half million people. Its location is, I think, instructive, for we are right between the rich and poor. On one side of the road you see great affluence; while on the other, the level of poverty is heartbreaking. It's very much a tale of two cities, a tale told again and again all over the world. For as Jesus said: the poor you will always have with you.
Still, I am optimistic. My passion is to leave a legacy in the hearts of people.
The question Christ poses for all Christians is: What are you going to do about it?
God helped me find some of the answers through The Global Leadership Summit and—by extension—what is now the Global Leadership Network. A network pouring back into our lives by helping us reach further to where human needs and spiritual rewards are greatest.
No doubt, there will be difficult days ahead. In my homeland, fighting among rival groups goes on. In the U.S., talk is of a nation more deeply divided than at any time since the American Civil War. Strife is a stubborn part of the human condition.
Still, I am optimistic. My passion is to leave a legacy in the hearts of people. Something that makes them think, redirect their lives and promote positive change.
The Global Leadership Network offers all of us that chance, pouring into thousands of lives and inspiring people everywhere—people like me—to serve God in their churches and communities, and by so doing, change the world. What a story, and what a legacy that is for an organization!
Thank you for being a part of that story—and that legacy. And thank you for giving me hope.